Johnny Rotten, Marky Ramone Get Heated At Punk Rock Panel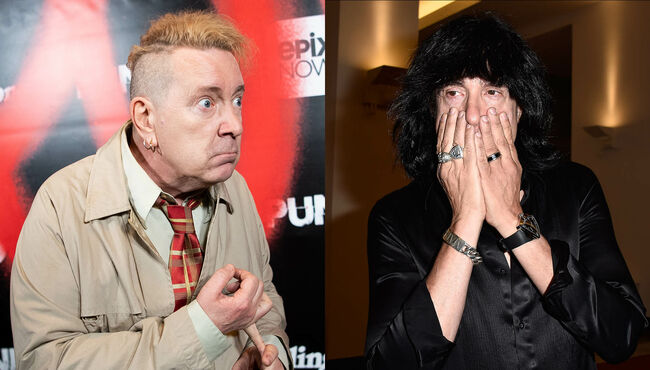 A panel discussion of punk rock's heyday and prevailing influence on culture devolved into a shouting match between Sex Pistols front man Johnny Lydon (a.k.a. Johnny Rotten) and Ramones drummer Marky Ramone on Monday.
The event at SIR Studio in West Hollywood followed a screening of the Epix network's upcoming docuseries, Punk.
The other panelists, Henry Rollins, Duff McKagan, L7's Donita Sparks and producer/fashion designer John Varvatos, and the audience looked on with a mixture of shock and amusement as Lydon and Ramone assailed one another's credibility and accomplishments for several minutes.
Panel moderator Kory Grow of Rolling Stone reports that the event started getting contentious when Lydon — a proud agitator who's been at it for decades — began needling Rollins.
"You've said silly things but excellently good things, too," Lydon proclaimed.
"And you called Black Flag a bunch of suburban rich kids and we wanted to tear your ears off," Rollins replied.
"Yes, I did, but I didn't like the f---ing music," Lydon said. "It was boring!"
Lydon continued, asserting his superiority to Rollins as a front man, and bragged about how the Sex Pistols' Never Mind the Bollocks, Here's the Sex Pistols made him an enemy of the state in England.
Lydon got his hackles up again later in the panel when Ramone suggested his band inspired the late-'70s punk movement in London. Lydon scoffed and pointed out that Ramone was "not even an original" Ramone.
Marky, who joined the Ramones in 1978, brushed off the comment, pointing out that he played drums on Richard Hell's 1977 Blank Generation album, which he intimated was a turning point for British counterculture. "All you guys took Richard Hell's image. That's all you did."
"And you're still covering your f---ing ears," Lydon said, in an apparent reference to Marky's hairstyle.
"And Sid Vicious was the star," Ramone added.
"That's right, he was," Lydon responded, sticking his tongue out. "He was the star for asshole fake idiots like you. Enjoy your drugs and f---in' have a happy death."
Lydon continued, explaining that he believed punk should be uplifting and dangerous in the eyes of politicians.
Ramone accused Lydon of being all "talk," and not being "out in the street protesting like the MC5."
"Look at you," Lydon grumbled over Ramone, "you look like a heavy metal f---ing reject."
"Sit the f--- down," Ramone scoffed.
Sparks then attempted to salvage the panel, offering that both Sex Pistols and the Ramones were important bands to her and many others.
"…What was cool when I discovered these bands was there was such horrible, horrible music on the radio," she continued, despite Lydon's attempts to interrupt her.
"And then when I heard the Ramones, I was like, 'Oh, my God. This is, like, for teenagers. Oh, it's speaking to me. It's teenage, it's fun, I want to dance to it.' And then when I hear the Sex Pistols, I was like, 'I am f---ing terrified of this band, and I love it.'"
Photo: Getty Images