Dave Ellefson Recalls Terrifying Scene When Nikki Sixx Was Pronounced Dead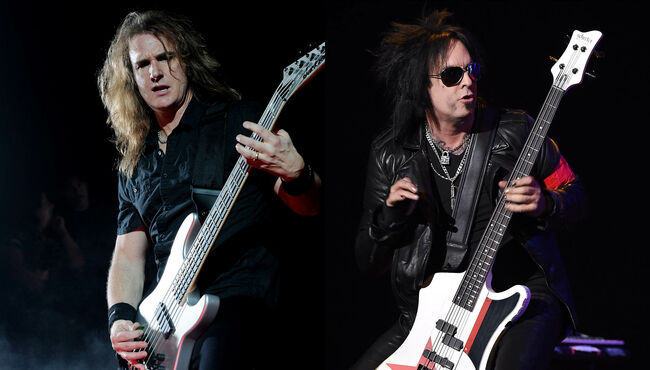 While Mötley Crüe's biopic, The Dirt, depicted Nikki Sixx isolated and alone just prior to his famous 1987 heroin overdose, in truth, he was just a few doors away from many of his rockstar friends.
It's easy to understand what the movie was trying to convey with the scene, but just as intriguing is the reality of the circumstance.
Sixx had been partying with members of Guns N' Roses, Cinderella and Megadeth the night his heroin addiction (briefly) killed him. Megadeth bassist Dave Ellefson recently recalled what he observed from that scary night in an interview with The Metal Voice.
"I was there," Ellefson said. "[GNR drummer Steven] Adler and I were friends, and I didn't really know the other guys too much. ...I'd never met Nikki before. And we're just parting, and Nikki comes busting into the room. I wanted to see if I could get some drugs off him, but he didn't have any, so I guess they were looking for some too."
Later that night, Ellefson recalls Sixx retiring to the room next door.
"...[A] girl comes running, 'Oh my God, I think he's dead!'" Ellefson recalled. "You could hear the sirens. Fred [Coury, Cinderella drummer] looked at me and goes, 'You got a car — get me the hell outta here.' It was pretty hardcore stuff, man. Thank God, I really wasn't around it; I mean, I had no part of it."
Other accounts from that night say Sixx turned blue almost immediately after injecting himself with heroin. After initial attempts to resuscitate him failed, the bassist was pronounced dead. As depicted in The Dirt, however, medics didn't give up, injecting Sixx with adrenaline multiple times.
Sixx later said the ordeal inspired him to write "Kickstart My Heart."
Both Sixx and Ellefson have lent their addiction and recovery experiences to other people struggling from similar issues. Sixx himself is 18 years sober and has spent much of the last two years advocating for Medicaid funding, particularly funding for addiction treatment and prevention in light of the opioid crisis.
Photo: Getty Images