The Life And Legacy Of Trans Activist Sylvia Rivera On The Outcast
On this episode of The Outcast, host Fran Tirado sits down with Out Magazine's executive editor, Raquel Willis, to talk about a radical queer activist named Sylvia Rivera and the work she did for the black and brown transgender community. She rode the momentum of the Stonewall Riot to call out racism and transphobia within the gay civil rights movement, insisting that the most marginalized people should be centered in order to create truly radical, intersectional change. She also started STAR, the Street Transvestite Action Revolutionaries, housing trans youth who had been kicked out of their homes. Fran and Raquel detail her life, her work, and how best to pay tribute to this remarkable woman who was on the frontlines of a revolution.
Sylvia's activism was born from her own life experiences: she was abandoned by her father as a baby, and her mother died when she was three. She was raised by her Venezuelan grandmother, who didn't approve of her wearing makeup and wanting to become a hairdresser. By age 11, Sylvia was living on the streets, working as a prostitute. "There's been this long tradition of trans people and gender nonconforming people being shunned or pushed away by their families, those supposed 'built-in' support systems," Raquel says. "So, I think it became apparent for Sylvia, the way that she would...take care of the other younger trans and gender nonconforming people who were just like her, was to create that support system and create that safe home where they could be supported and protected and nourished." That's when she started STAR, which was very different from other gay and lesbian organizations that we might be more familiar with today. "The thing with STAR is that it wasn't this large national non-profit...It very much was grassroots and scrappy. And they, at points, were going from rent check to rent check just trying to make ends meet so that they could keep this home for these youths."
During the Christopher Street liberation rally in 1973, Sylvia jumped onstage to make her famous "Y'all Better Quiet Down" speech advocating for the work STAR and her friend, Marsha P. Johnson, were doing, as well as calling for support from the larger movement for incarcerated gay and transgender people, and she was booed by the crowd. "They were booing her existence, and they're booing the existence of Trans and gender nonconforming people at that time," Raquel says. "Sylvia always held down these radical ideas, that are still radical to this day, that we need to center the most marginalized in our community." 
The lack of support she received from the larger gay community for transgender rights burned Sylvia out on the movement, and she removed herself from it for over a decade until Marsha was found dead in 1992, floating in the Hudson River. "Literally this person that we see as a fore-mother for the LGBTQ+ community was possibly murdered, the way black trans women are being murdered today," Raquel says. "That was a very powerful motivating instance to get her back into organizing and activism work." Another black trans woman, Amanda Milan, was brutally murdered soon after Marsha, unmarked by a public outcry for justice. But when Matthew Shepard, a white gay man in Wyoming, was tragically killed, it "did prompt widespread national outrage," Fran points out. "It caused press outrage, television spots, it inspired a documentary, it just inspired a major motion picture, a Tony award-winning play. So to Sylvia this was kind of hypocrisy at its finest. It was the LGBTQ movement prioritizing one body...and not another."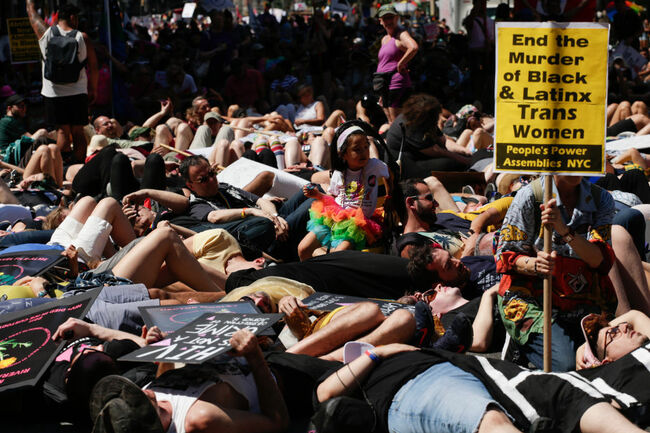 Even with all this evidence that Sylvia had been speaking the truth, "still this larger LGBTQ+ nonprofit industrial complex refuses or actively avoids putting as much money, resources, time and energy into making the conditions better for black and brown trans communities," Raquel says. Though Sylvia herself died in 2002, her work clearly continues. "She would still be calling out capitalism and how that plays out in our community. She would still be calling out the issues with trusting the criminal injustice system...she would still be calling out war and the military," Raquel tells us. "I think she would be wanting her trans and gender nonconforming youth to see a more radical and brighter future that doesn't revolve around trying to assimilate." 
Join Fran and Raquel to learn more about Sylvia and her radical activism, and then get "all the gayest news" in Fran's This Week in Gay (WIG for short) segment, which covers everything from the new Cats musical to San Diego Comic Con ("Do you ever walk outside, scared, that any tree or cat might be Scarlett Johansson?"), on this episode of The Outcast.
If you want to be sure you're listening to the podcasts everyone else is checking out, iHeartRadio has you covered. Every Monday, iHeartRadio releases a chart showing the most popular podcasts of the week. Stay up to date on what's trending by checking out the chart here. There's even a chart just for radio podcasts here, featuring all your favorite iHeartRadio personalities like Bobby Bones, Elvis Duran, Steve Harvey and dozens of others.
Photos: Getty Images